WELCOME TO MANGALORE PROVINCE
New Era in the Province
Mangalore Province is an off-shoot of Central Province that goes back to the bifurcation of South Region and to its origin. The Karnataka-Goa Province is situated in South India.
The birth of Mangalore Province and Sr. Maria Goretti as its first Province Animator, from December 2002-2006 marks a a paradigm shift in the history of the Province. Her creative leadership opened new avenues, launching into diverse and challenging ministries in an organized manner. Besides, she becomes the first prodigy of the province to be elected as the second Indian Superior General. Presently the Province is handed on to Sr. Santosh.
VISION OF THE PROVINCE
"An Integrated Human Society Living in Freedom, Justice & Peace."
MISSION OF THE PROVINCE
"To witness and proclaim the compassionate love of God to all especially the women, marginalized and the vulnerable people in the society empowering them to create a new world order."
Pastoral and Catechetical Activities
Our presence in the Pastoral activities though challenging is appreciated. We collaborate in eight dioceses namely, Mangalore, Karwar, Belgaum, Shimoga, Gulbarga Archdiocese of Bangalore and Goa. We make ourselves available to offer our services in diocesan institutions as well.
Preparation for Liturgy
Catechesis to Children
Altar boys/Girls
House Visits
Catholic Sabha
Women's League
Preparation for Sacraments
St. Vincent de Paul Society
Young Christian Movements
Indian Christian Movements
Small Christians Community
Sacristy Care
New Ventures from the Inception of Karnatak-Goa
Deepalaya -Vocational Training Centre - Bidar.
Sneha Jyothi Social Centre - Sorab, Shimoga.
Parivar Social Centre - Kallianapur.
Nursing Aid Training - Kallianpur.
Cynthia Fernandes Palliative Care Centre- Kallianpur.
St.Ignatius Health and Education Centre.
Vidyarthi- Training in School-bag Manufacturing.
Premanjali Convent - Ujjini, Bidar.
Premanjali Kannada Medium High School-Ujjini, Bidar.
Premanjali Boaring - Ujjini, Bidar.
Christa Jyothi Boarding - Kolalgiri.
Maria Bodewig Boaring - Sorab, Shimoga.
Maria Bodewig Convent- Sorab, Shimoga.
Amar Jyothi Composite College - Sorab, Shimoga.
St. Ignatius School of Nursing - Honavar, Karwar.
Prem-Dham Psychiatric Rehabilitation Centre.
Mother Theresa's Block - Ignatius Hospital.
Asha Kiran - Play Home
Asha Kiran - Working Women's Hostel for Rural Girls.
Asha Kiran - Working Women's Hostel
Canacona Mission - Goa
Vacational Training Centre - Canacona.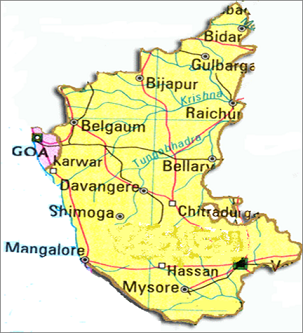 Historical Overview
The pioneering group of Sr Stephanie, and late Srs. Lidwina and Clementine initiated the SRA mission in Karnataka through medical and needle work apostolate, at Kallianpur in 1962. The main building of the Goretti Hospital Kallianpur was put up under the leadership of Sr Aquilina in 1968. During the tenure of Sr Hemma, the first Regional Superior of the South Region a decision was made to found a centrally situated regional and formation house. In 1972 the Novitiate for the South Region was separated from North Region and was temporarily housed at Goretti Convent Kallianpur under the care of Sr Mechtildes. In 1975 the first group of novices made their profession at Kallianpur. The new regional house cum Novitiate was established in Vamanjoor in 1976 with first group making their vows.
Further, the bifurcation of the Region into South and Central Provinces sets another mile stone for better functioning and administration. The leadership of our sisters over the years prepared the Central Province for added growth and development.